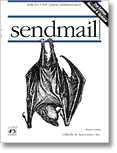 Sendmail, 2nd Edition, covers sendmail Version 8.8 from Berkeley and the standard versions available on most systems. This cross-referenced edition offers an expanded tutorial, solution-oriented examples, and new topics such as the #error delivery agent, sendmail's exit values, MIME headers, and how to set up and use the user database, mailertable, and smrsh.
1997, 1050 p., 1-56592-222-0, GBP 39,14
Данное издание имеется в свободной продаже!